Investment Advice & Management
As a client of Frank Financial Concepts, you can anticipate working closely with your advisor to build a customized financial and retirement plan that meets your specific parameters.
This is actually a multi-step undertaking that continues to evolve over time, based on changes in the market, your life situation, and other pertinent circumstances.
Our unique process for investment advice and management encompasses four primary steps:
ESTABLISH
At Frank Financial Concepts, we incorporate several key areas, starting with establishing an open dialogue with you so that we can truly understand your goals, and in turn, can work towards developing a customized financial plan for you.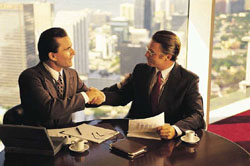 Just some of the aspects of your financial health that we take into consideration include:
Retirement Planning
Investments
Estate Planning
Risk Management
Tax-Saving Strategies
Asset Protection
DEVELOP
Our aim for you is to steadily increase the value of your investments, while at the same time preserve your wealth. We know that in order to do so, it will first require developing a blueprint.
Once we have thoroughly reviewed all of your information, we will create a plan that encompasses your current and projected future resources, aligning them with your short- and long-term goals.
When properly structured, your plan can help ensure that your assets remain safe and that you remain on pace to meet, or even beat, future inflation.
IMPLEMENT
Although knowledge may be power, without taking the proper action, nothing can be accomplished. With that in mind, once your plan has been created, it will be time to apply the tools and materials and start (or continue) building your financial structure. Over time, it will be shaped into the vehicle that will help accomplish your financial goals.
MONITOR
Because life – and the financial markets – are always on the move, it is essential that the plan you put in place today continues to be closely monitored going forward. This can help to ensure that your finances remain on par with where you want to go – and that any necessary changes are implemented sooner rather than later in order to keep your plan on track.